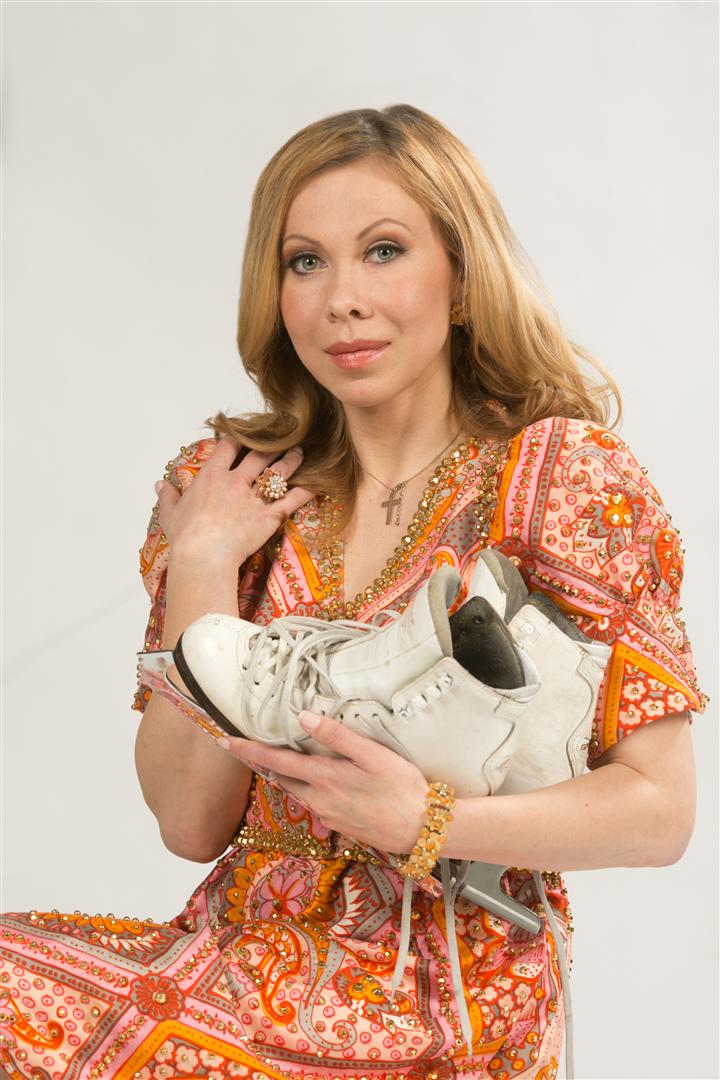 The EMPRESS OF ICE; 1994 Olympic GOLD Medalist & 1993 World Champion, Ladies Figure Skating; Film & TV Actress, Designer, Author, Spokesperson, Philanthropist!
When Oksana Baiul was three years old, she received her first pair of ice skates from her Grandfather. By just seven years old, she already won her first competition and continued to sweep gold at numerous junior competitions and after the collapse of the USSR in 1991 more competitions such as Ukrainian Nationals twice. The Ukrainian Figure Skating Federation immediately took notice of her unique, natural balletic artistry on the ice after her first win. Two figure skating coaches that contributed a significant role in cultivating and growing her talent and instincts on the ice were Stanislav Koretek (from 1983-1992) and more importantly Valentin Nikolayev (1992-1994; 1998-present) who coached her during the 1993  & 1994 European Championships, GOLD at the 1993 US Skating Skate America, GOLD at the 1993 World Championship and GOLD at the 1994 Olympics.
In 1994, at barely 16 years old, the world watched literally (Oksana Baiul holds the record for most watched Olympic performance in history) as Oksana captivated our hearts & won the Olympic Gold Medal, proving that she is the Best in the World! Contrary to the false tales spun and lies propagandized, by a former coach and associated skater, to the press and other media platforms claiming to have financially supported Oksana prior to 1994 with food, skates, housing, and the like, in fact Oksana was by 1993 already unknowingly a financially secure teenager with her own apartment, having won GOLD at the 1993 World Championship, headlined the ISU European Tour and being contracted by Tom Collins to co-headline his 1993 Tour of World Figure Skating Champions sold out 43 US cities tour. Oksana had mostly prior to 1994 Olympic Gold, trained in Ukraine, living in government provided dormitory style housing and vouchers for food and basic needs in addition to competition-related basic support costs covered. After winning the Olympics in 1994, Oksana was brought to the United States to headline tours, tv specials and competitions, film and to train at a state-of-the-art training center that was literally built on in Connecticut wherein Oksana by invitation shared and mixed Ukrainian soil into the USA soil during a ground-breaking ceremony.  Oksana was signed to William Morris Talent Agency, turned professional performer, toured nonstop for 8 years as Headliner of AEG's Tom Collins Champions On Ice Tour in the United States, toured the UK as Headliner of the Nutcracker On Ice Tour, toured France, Canada, and other countries, toured as a Guest Star Headliner in 2003-2004 Smucker's Stars On Ice TIME Tour and has since continued to primarily tour overseas. Barbara Walter's named Oksana Baiul "One of the 10 Most Fascinating Personalities of 1994".  Oksana Baiul is the only figure skater ever to receive the prestigious Jim Thorpe Pro Sports Inspirational Icon Award.  Oksana has also been awarded the great honor of the Ukrainian Chevaliers of the Order of Merit. Oksana Baiul has also been featured on a Ukrposhta (Ukrainian Postal Service) national treasures collectable postage stamp.  Oksana Baiul remains to date the ONLY Ukrainian Ladies Figure Skating Olympic Gold Medal Champion!
Born in Dnepropetrovsk, Ukraine, USSR (now known as Dnipro) she is an only child of parents Sergei and Marina Baiul who divorced when she was two. Raised Ukrainian Orthodox, although her mother was (Romanian) Jewish, the Soviet system shunned Jewish people hence many acknowledged Ukrainian Christian Orthodox, however Oksana is proud and honors both her Jewish and Christian roots by continuing to openly embrace both. Her mother and her maternal grandparents raised Oksana. When Oksana was 10, her grandparents died. Tragically, three years later at 13, her mother died of ovarian cancer.  As an only child, Oksana inherited her mother's family apartment, however Oksana primarily lived in government supplied dorms due to her rigorous figure skating training regiments and her basic financial needs were provided by the government as well, allowing her to give all of her time and focus to her full-time training.
Prior to and after her golden victory in Lillehammer, Oksana headlined figure skating tours and exhibitions non-stop from 1993 to present in the United States, Ukraine, Canada, Japan, United Kingdom, Germany, Italy, Norway, Switzerland, Czech Republic, Spain, France, North Korea, South Korea, China, Russia and many more.
Oksana's life story was depicted in the (EMMY-Nominated) SONAR-RHI-HALLMARK/CBS produced BioPic Movie, "A Promise Kept: The Oksana Baiul Story". Oksana had always been advised not to watch the movie as the depiction of her mother's battle with cancer and death would be unbearable to watch.  As a grown woman and mother, due to litigation she was forced to commence, she had to view the film and realized like many other matters she had been lied to as has the public with the majority of the film depiction of her life being beyond fiction.  *Oksana has never and will never earn a single penny of royalties nor residuals nor child star Coogan Trust protection because as litigation proved as Oksana prevailed that Hallmark Cards Corporation, her agents at William Morris Talent Agency, her financial CPA Business Managers, and AFTRA Union, did not protect her as a child star over profits. As an adult when Oksana accidentally found out that Galina Zmievskaya and Victor Petrenko were in a HALLMARK MOVIE contract as majority participants of profits of the OKSANA BAIUL LIFE MOVIE (side note: Victor Petrenko an adult male skater married to Galina Zmievskaya's daughter Nina, whom Oksana barely knew prior to 1993 or spent any time with and has never been friends with merely associated by mutual coach and country, was portrayed in the OKSANA BAIUL STORY HALLMARK MOVIE by an actor in the movie for approximately 30 seconds).  The US Court ruled in favor of Oksana's evidence yet simultaneously did not award her any of her embezzled earnings past present or future for the numerous contracts prior to late 1990's due to statute of limitations a/k/a she stumbled across their financial misdeeds and theft of much of her legacy work too late…in fact the company that was established for Oksana as her loan out company for her professional earnings was, like the OKSANA BAIUL movie, suddenly claimed to not be Oksana's any longer, rather owned by Joseph Lemire, Galina Zmievskaya and Victor Petrenko, all as adults whom have lived off of Oksana's earnings and used her name and fame to enrich themselves without her knowledge or consent including Lemire and Petrenko suing the Ukrainian Government for (in Ukraine) Oksana Baiul Beauty Salons, commercial and residential real estate in Kyiv and Odessa, Gala Radio Station and more, paid for with Oksana's missing funds and thereafter mostly seized by Ukraine officials resulting in arbitration, which Oksana and her team discovered and alerted a corrupt Ukrainian Ministry of Justice about, albeit they had much to hide and paid off Lemire and his partner Victor Petrenko $12.5 Million Dollars. After the fact, a former Ukrainian MOJ attorney advised Oksana off the record that they sued using her name and claimed to be her (legal and business) representative as well, hence Ukraine blamed Oksana for paying the arbitration award that she had no knowledge of and nothing to do with and never saw a penny of.   Oksana has learned from multiple child stars and even adult stars that the similar thefts had occurred to them and to stay strong and not blame herself especially being a child when most of it occurred without a grasp of the English language.   Yet, with everything Oksana has been made aware of and her team has discovered over the recent years, she refuses to hold a grudge against any of the numerous people, politicians and companies that were involved in the misdeeds and cover-ups, especially now that the litigations are completed, and Oksana is free and clear of all of them and their independent dubious actions.  Oksana has forgiven all of them with prayer to not hold toxic energy, however that does not mean she will ever forget!
Oksana has two published Best-Selling books, "Secrets of Skating/Oksana Baiul" (which she was actively involved in) & "Oksana, My Own Story".  Oksana has been profiled in several televised biographical specials on networks such as CBS, FOX, ABC, ESPN, NBC, Lifetime, A&E, BBC, NTV and numerous other networks. In 1996, Oksana also launched "OKSANA: Jewels On Ice" and "Oksana: Ice Crystals" her jewelry collections, which sold-out on QVC and in turn were made available with major US luxury department stores. Oksana has had a lifelong passion for jewels and gemstones and a fascination with how they are created, cultivated, cut and completed.  Oksana Baiul has headlined more than 900 live performances touring the globe, a part of over 150 headlining television and as a successful Movie and TV star with lead roles in performances (Nutcracker on Ice [NBC/OnIce], Wizard of Oz on Ice [CBS/FeldEnt/RinglingBros/Turner], CBS Sports Olympic Winterfest, Goodwill Games) and more than 300 television appearances.
In 2002, Oksana also launched her clothing line, the Oksana Baiul Collection, the most successful independently owned Figure Skating Apparel line, created and designed by Oksana herself.
In 2003, Oksana returned to her hometown of Dnepropetrovsk, Ukraine and her heartfelt story was featured on ABC's 20/20 and featured in People Magazine and dozens of international media.  Oksana was reunited with her Father and Paternal Grandmother whom she had been told were all deceased by her former coach in 1994 to keep her in the USA working full-time headlining projects instead of returning to her home country of Ukraine.  She was told she had nothing left in Ukraine to return to.  After hearing a rumor from a childhood friend she reconnected with, that there was a man claiming for years to be her father looking for her, she reached out to Meteor Ice Rink in Dnipro and asked for assistance finding this man.  They hung on Oksana multiple times not believing it was her actually calling.  When they realized it was Oksana, they agreed to help and by the grace above and a lot of prayer it turned out to be true.  She immediately made plans to communicate and travel to Ukraine to meet with her father and that side of her family.  Oksana was informed by her father when they met that he never remarried after her parents divorced and he lived in Dnipro and that he tried to contact her many times but was told by government officials not to attempt to contact her ever again as a message from Oksana's former coach Galina claiming Oksana wanted nothing to do with him.  Another lie but all too telling when as an adult Oksana's husband accidentally discovered how much had been financially stolen from Oksana by that same coach and her group…but the theft of a relationship with her own father was on a grotesque level which Oksana continues to struggle to forgive.  Unfortunately, within 2 years, Oksana's father died, and soon thereafter her uncle, leaving only her babushka whom she cared for until her passing a decade later and cousin.
During 2005 to 2009 Oksana also headlined a Moscow Red Square TV special, starred in an Off-Broadway theatrical show "Cold As Ice" earning her performance critical acclaim and praise by the press, while dedicating the majority of her time to philanthropic endeavors benefiting orphaned children. Oksana, the only figure skater to become a globally known household name (other than Sonja Henie) and cross over to be considered a true entertainer; The EMPRESS OF ICE and Film/TV Star, has graced the covers of over 50 media publications globally and endorsed products such as ICON Fitness' HealthRider and Lifeway's KEFIR. Oksana's career as a Television actress has continued, making guest appearances on television series' (Arli$$, Strong Medicine), supporting roles in movies (Cutting Edge II), and stared as lead judge on ABC's prime-time reality show "Master of Champions".
---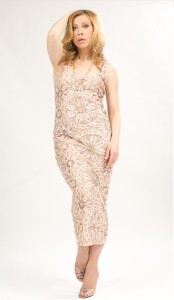 OKSANA BAIUL: EMPRESS Of ICE, also nicknamed the Queen of Ice and the Swan of Odessa, who partnered with Entertainment Producer, Respected Investor and Philanthropist Carlo J. Farina, can be found on the ice training for her upcoming projects on the ice, stage, film and television, continuing to write her highly-anticipated autobiography, lending her celebrated name and attendance to international philanthropic fundraising (primarily focused on the Performing Arts, Aide to orphaned and / or impoverished Ukrainian Jewish children, medically fragile as well as small dog welfare), developing a global headlining production and expanding her career as a co-Producer (of shows/tours in addition to Television specials), developing the return of CHAMPION ON ICE TOUR (which her husband's company acquired and holds the rights to), while also designing the OKSANA BAIUL Collection encompassing figure skating apparel, ready to wear, accessories and her upcoming new jewelry line!  Oksana Baiul, now known as Oksana Baiul-Farina is a happily married woman, a dedicated mother to her daughter, a close friend with a select few, a presence for many and very grateful for each and every fan whom have loyally supported her through the ups and downs and resurrections in her career lifetime!