February 23, 2014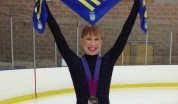 OFFICIAL STATEMENT ON TWENTY YEAR ANNIVERSARY OF OLYMPIC GOLD MEDAL WIN BY OKSANA BAIUL
Statement Of:  OKSANA BAIUL
For Release on
February 25, 2014
I celebrate today February 25, 2014, the Twenty Year Anniversary of the day I won the 1994 Olympic Gold Medal Ladies Figure Skating for my country Ukraine!  As a 3 year old child in Dnepropetrovsk I began my lifelong journey as figure skater. I loved what I did however it was not easy for a child to sacrifice everything as I did, including my childhood and living in dorms for one goal in my life, to become an Olympian.  After I won the 1993 World Championship Ladies Figure Skating GOLD Medal and 1993 Skate America GOLD Medal, my life changed.  Skating was my way to express myself and feel needed in this world after the loss of my mother.  When I won the Ukrainian National Title and thereafter got to compete at the Olympics, I had no idea about the Nancy Kerrigan and Tonya Harding scandal.  All I knew when I got to my warm-up practice was that something had happened with them and then I experienced a devastating injury to my leg and back during a collision on the ice with a German skater, after I had already skated my Olympic short program but before skating my long program.  When I saw blood gushing out of my leg, my life stopped.  I thought that was the end.  I chose to fight through the pain, persevere and not give up until I had won the fight to achieve the Olympic Gold medal for myself and the people of my country Ukraine.
My figure skating medal gave me an opportunity to introduce the world to Ukraine and thereafter afforded me the opportunity to travel to American soil.  The American people embraced me as did the rest of the world and I continued as I do to this very day, to work hard, never give up and always give my best performance to my fans globally.  My message to the young generation is to fight through hard times, follow your dreams and never allow anyone to make you feel that you are not good enough.
Ukraine is always in my thoughts when I am away and always my country.  I have maintained my Ukrainian Citizenship and am most honored today to acknowledge and celebrate my Ukrainian Olympic Figure Skating Gold Medal with my fans that have stood by me around the world!
OKSANA BAIUL, EMPRESS OF ICE
1994 Olympic Gold Medalist, Ladies Figure Skating, Ukraine
1993 World Championship Gold Medalist, Ladies Figure Skating, Ukraine
www.OksanaBaiul.com
twitter: @OksanaBaiul
www.BaiulFarina.com
OSBF/cjf
####