November 12, 2013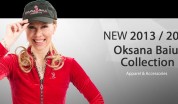 FREE SHIPPING WORLDWIDE*!!!
Place your HOLIDAY Shopping OKSANA BAIUL® Collection Orders…Ready-To-Wear, Accessories, T-shirts, Caps, Figure Skating Dresses & Accessories and much more.
We have been working around the clock with our domestic and international couriers to achieve our goal of offering FREE SHIPPING* to our customers worldwide during the holiday shopping season.  We are Super Excited to have worked out the details, guidelines, and of course to SHARE this GIFT with you!  Happy HOLIDAY Shopping!!!
*Visit www.SHOP.OksanaBaiul.com  shipping for details.